(well, as far as I know haha)
I first heard of this brush when I was watching the videos put up by Makeup Designory. They use this brush (or a smaller) version for mascara. I've also seen it on Makeup Geek and a few other youtubers' videos.
It has become one of my all time FAVORITE types of brushes....no contest, everyone should have one........
it's the...............
FAN BRUSH
E.L.F. Essential Line Fan Brush can be found here
I got mine through E.L.F. and I got their essential collection $1 brush. And even though it was only a dollar, it's amazing. It has never shed a single hair. It's a dark red color (like my hair color haha) and it's the only brush they have that is this color. The hairs feel weird, I cannot describe it. They aren't super soft to the touch like some of their studio brushes but it works really well on your face. You can wash it and gently shape it and it will keep it's shape. It's not thick like some fan brushes (which would defeat the reasons why I use it). I'd pay more than $1 for it, but because it's only $1 you should buy at least 3 haha. I have not tried their studio line fan brush because this one works so well, I don't see the need to buy another.
My favorite use for it is for contouring because it fits right under the cheek bone and blends up nicely. It really fits PERFECTLY and it's light enough that it doesn't look like a dark line on my face since I am so fair. Works everywhere else you need to contour as well including the sides of the nose, under the jaw bone and near the hair line. That is why it helps not to have a very thick brush. You can fine ones that are 1/4' to 1/2" thick.
I also use it to apply blush because of the light touch it has as well. The blush will look natural. And because of that it can be very good with beginners to blush or people that have a tendency to put blush in a line or too dark. It's almost impossible to push hard enough on this blush to make it too dark or not look blended (unless the blush is too dark/the wrong color).
I also use it to brush away any fall out (doesn't work too well on glitter though, it does, but it does leave some).
Another favorite use because of the light touch once again is to use it to apply setting powder. I use the E.L.F. HD powder (which is AMAZING!!!!!!! if you have not tried it, you need to! it's to die for. It's so smoother and silky. I've never felt anything like it. People have compared it to the I think it's Smashbox? HD powder as a dupe and it's only $6). Because of the width and because it's not very dense, it puts on enough powder but doesn't allow it to get cakey (this powder also just doesn't cake) and that is always an issue I have because my skin is both oily and dry.
One that I will buy, is the Crown Brush Masacara Fan brush. It's a lot smaller in size so you can put mascara on. If you want to see how that is done, it's best just to look up a video on youtube (I like the makeup designory ones, but they do full looks so you'd have to search for the point where they use the brush). This may not be for everyone but I want to try it.
I'm going to go take pictures of how I use it, because as I am re-reading my post I can't figure out how to explain how I use the brush for contouring versus blush and face. Going to go take those now.
EDIT: adding pictures.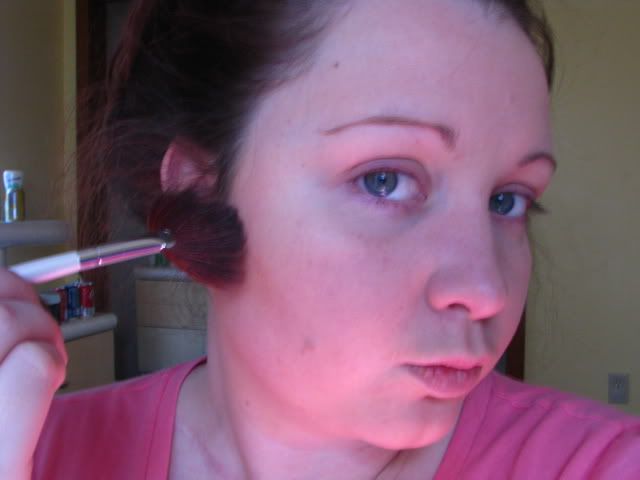 Contouring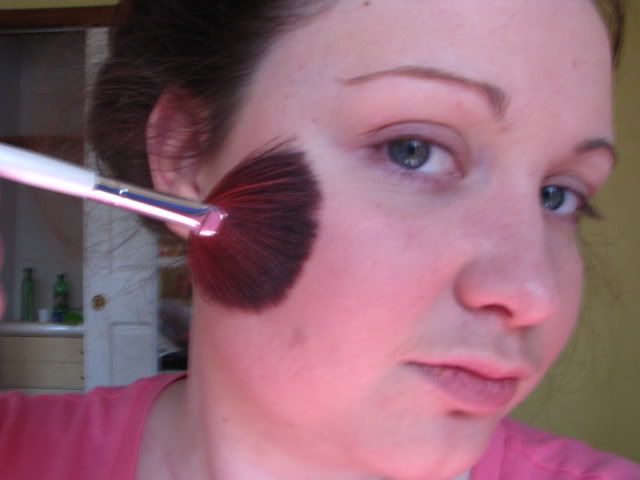 Blush - I look awful sorry
And then I got bored. . . .